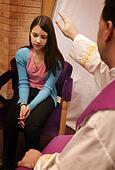 The Sacrament of Holy Confession (Reconciliation)
Confessions are heard at these times:
* 11:40 a.m. Tuesday & Thursday at St. Rose
* 6:00 a.m Wednesday & Friday at St. Joseph
* Saturdays from 3:00-3:50 pm at St. Rose
In addition, special days for Confession are schedule. Please check the bulletin for the exact dates and times these days are scheduled.
*You may also call the rectory to schedule an appointment with the Pastor for Holy Confession.

For details on the First Reconciliation Program, please visit the First Communion page.